This is my second 9X9X25 Challenge post for Ontario Extend.
The challenge asks you to reflectively write on the open Web about your teaching. For this post, I want to step back and write a bit about writing itself. Especially writing in the open. It can be scary. Maybe it doesn't need to be quite so. I think it's like driving. You are free to drive no matter what kind of car you have access to.
I drive a minivan. I'm sure lots of people dream of driving a Ferrari or some other fancy, luxury vehicle. I don't at all. I wouldn't enjoy it very much. I'd worry about scratching it or grinding the gears. No thanks, Ferrari. It's all a bit much.
No joke, I've never enjoyed a vehicle more than our van. It does all the things. It goes around corners. Stops after it starts, starts after it stops. And I do it all feeling great about it because I don't need to worry too much about getting hung up on a speed bump or if enough people are looking at me. It grinds no gears of mine. All the vehicles I've ever owned have been in this same non-luxury class, but this is the first time I'm really leaning in and enjoying the benefits.
It can fit my whole family in it. That family is then able to easily provide feedback/Q & A on where we are, where we're going, why we're going this way, and if, perchance, we are going somewhere where we can get a toy. Try doing that in a Ferrari. There's definitely no feedback about the vehicle itself. As long as it's going, no one cares.
I feel the same about my writing. It's minivan-esque . I don't have all the features like semi-colons, non-dangling prepositions, deep thoughts, or big words. But I can write. I can take people places with it. It might be a bit bumpy. I used to worry if my writing is good enough to be out here. I don't any more because I realized it's not about my writing skill, it's about offering up what I have to say in the hopes that someone else can gain from it.
I sure enjoy writing now despite the lack of luxury features. I'm glad it allows me to get out there in a way that maybe lets me bring some people along or convinces others to join in. I never thought of myself as a writer, just as I've never thought of myself as a driver. I think I can and I should. I don't wonder if my driving skill is good enough before I drive and I only had that one short driving course like 25 years ago. Let's apply that moxie to our writing.
All this is to say that I hope that you are not too worried about how polished and supercharged your writing skills are to get out there on the road sharing your journey. This challenge is all about hearing some fresh takes on pedagogy. I hope that how you feel about your writing doesn't stop you from getting in here and sharing your thoughts. Don't worry about the Ferrari drivers. We're all allowed on the same roads. You have something important to say and we would love to read about it.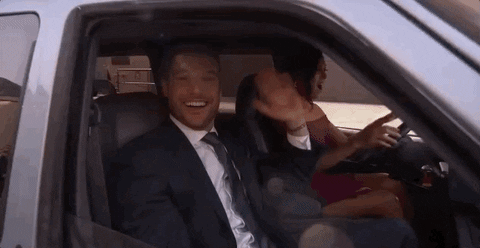 Featured image: "Dude, You're Driving a Minivan" flickr photo by happyskrappy https://flickr.com/photos/happyskrappy/4608104244 shared under a Creative Commons (BY) license